christmas carol 2010
archive
CHRISTMAS CAROL SERVICE

SUNDAY, 12TH DECEMBER 2010
AT 7.30 PM


BIDDING PRAYER Mrs. Lis Hamark
Parish Assistant to the Church of Sweden in
Hong Kong & China

THE LORD'S PRAYER
Our Father, who art in heaven, hallowed be thy name: thy kingdom come; thy will be done; on earth as it is in heaven. Give us this day our daily bread. And forgive us our trespasses, as we forgive those that trespass against us. And lead us not into temptation; but deliver us from evil; for thine is the kingdom, the power and the glory, forever and ever. Amen.

1ST LESSON READER Captain Luca Ferrerio
Chaplain's Assistant
The Mission to Seafarers

CAROL Once in Royal David's City (Stand)

2ND LESSON READER Mr. John Wilson
Hon. Secretary
The Institute of Chartered Shipbrokers

CHOIR How Far is it to Bethlehem
Born Today

3RD LESSON READER The Reverend Maria-Louize Helbo
Assistant to Chaplain
The Danish Seamen's Church

CAROL O little town of Bethlehem (Sit)

4TH LESSON READER Mr. Colin Shaftesle
Hon. Secretary
The Sailors' Home & Mission to Seafarers

CHOIR Cantique De Noel (O Holy Night)
Carol of the Drum

5TH LESSON READER Ms. Sol Paderagao
A Flying Angel

CAROL In the Bleak Mid Winter (Sit)

6TH LESSON READER Mr. Douglas Oxley
Chairman
The Apostleship of the Sea Council

CHOIR Regina Coeli (Creator Father)
Ding Dong, Merrily on High

7TH LESSON READER Mr. Anthony Nightingale
Chairman
The Sailors' Home & Mission to Seafarers

CAROL While Shepherds watched their flocks by night (Stand)

8TH LESSON READER Mr. Roger Tupper, JP FNI
Director of Marine
The Marine Department

CAROL Good King Wenceslas looked out (Sit)

9TH LESSON READER Father Valan Arockiaswamy, SVD
Port Chaplain
The Apostleship of the Sea

CAROL O come, all ye faithful (Stand)

PRAYERS The Reverend Martina Platte
Port Chaplain
The German Seamen's Mission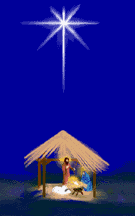 THE LAST VERSE OF ETERNAL FATHER
O Trinity of love and power,
Our brethren shield in danger's hour.
From rock and tempest, fire and foe,
Protect them whereso'er they go.
Thus evermore shall rise to thee
Glad hymns of praise from land and sea.

BLESSING The Reverend Peter Ellis
Senior Chaplain
The Mission to Seafarers

NOTICES
We are most grateful to the Allegro Singers for leading the singing in our worship tonight and to the organist Ms Fan Lai. Our thanks too to those who read the lessons. There will be a collection during the singing of "While Shepherds watched their flocks by night", which will be shared between The Little Sisters of the Poor and the Appeal for Christmas Gifts for seafarers.


We wish you and yours loved ones
all the blessings of Christmas.